As with any business, you are often bogged down in your operation and can't afford the necessary time to understand what you can do to reduce your operating cost as well as become more attractive to insurance companies.
For many the problem lies in not understanding the specific steps and thinking there's too much complexity in what's available and/or what actually works. Finally, it seams difficult to find a true valuable proposition from insurance agencies that stands out above all else.
In addition, we've seen how premiums have increased to unprecedented highs and how many companies reject to quote clients due to not having a solid plan demonstrating their commitment to safety.
We've also noted that your operating cost for ELD's, GPS, Camera Monitoring &/or Driver Training is a constant expense eating at your profits.
Therefore, we at PTS offer our qualified clients a Valued Proposition based on services unmatched by others that will immediately make your company more profitable regardless of size!
We can help by working with expert partners who offer:
Complimentary Monitoring Services Without Having to Change Providers
Complimentary Safety Programs transforming your Trucking or Passenger Transportation Business to an Operation that All Insurance Companies Want to Cover
Regardless of the size of your business, this is the key to reducing your operation and insurance cost around and helping you keep more of your income.
Our offer to you tackles your needs in a Four-Way loop. With over 30 years of experience, we have the know how to put this in motion and present this to insurance companies in the best light! This is how we make this a WIN for you!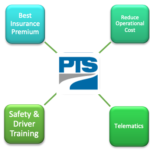 The best time to reach out for additional information is now. Implement a plan of success and get the best offers.
Info@PTSins.com Ph. 888.386.7875
Current Licensed States:
AZ, CA, CO, FL, GA, IN, MI, MD, NC, NJ, PA, SC, TN, TX, VA & Others to follow